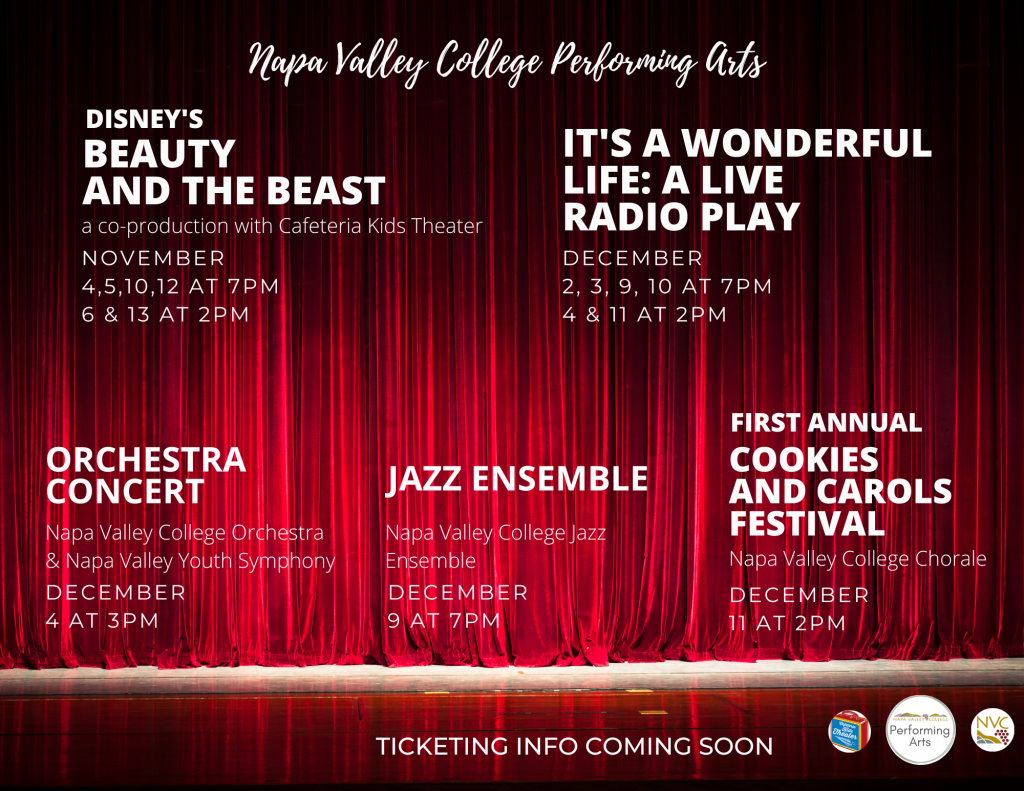 PRODUCTIONS:
Disney's Beauty and the Beast
November 4-13
Napa Valley College Performing Arts co-production with Cafeteria Kids Theater  The classic story tells of Belle, a young woman in a provincial town, and the Beast, who is really a young prince trapped under the spell of an enchantress.  If the Beast can learn to love and be loved the curse will end. But time is running out. If the Beast does not learn his lesson soon, he and his household will be doomed for all eternity. This "tale as old as time" is theater the entire family can enjoy together!
Directed by Aimée Guillot and Olivia Cowell with Music Direction by Dr. Christina Howell
It's a Wonderful Life: A Live Radio Play
December 2-11
Napa Valley College Theater Arts Department production
This beloved American holiday classic comes to captivating life as a live 1940s radio broadcast. With the help of an ensemble that brings a few dozen characters to the stage, the story of idealistic George Bailey unfolds as he considers ending his life one fateful Christmas Eve.
Directed by Jennifer King
CONCERTS:
Napa Valley College Jazz Ensemble Concert
December 9 | 7 pm
Napa Valley College Jazz Ensemble will present a live performance, led by instructor and Jazz Ensemble Director Peter Estabrook.
First Annual Cookies and Carols Festival
December 11 | 2 pm
Napa Valley College Chorale present this holiday event filled with carols and festive fun. Conducted by Dr. Christina Howell
TICKETING INFORMATION COMING SOON!