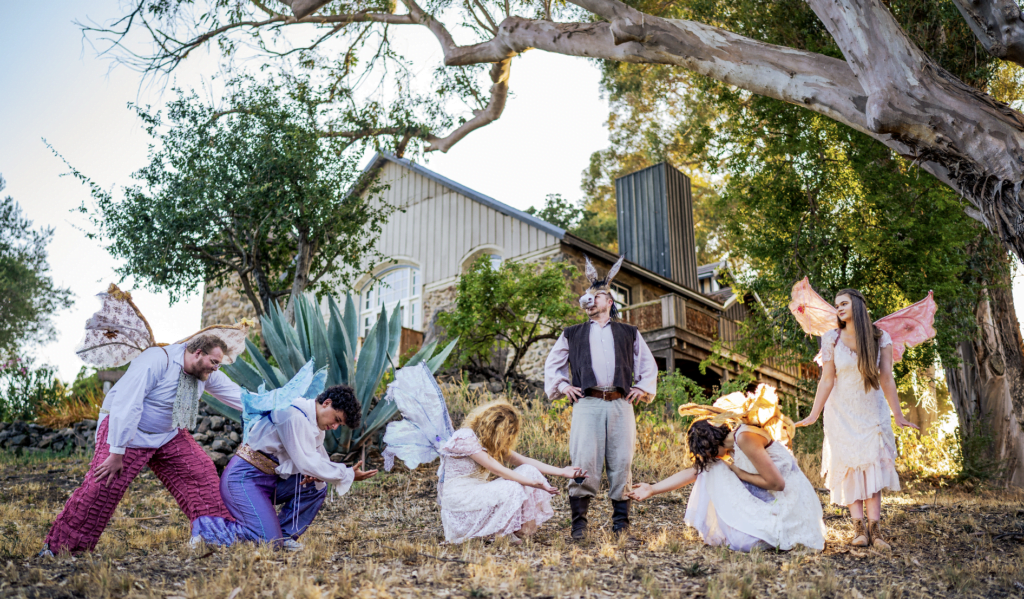 Tickets on Sale Now!
Shakespeare Summer Stroll
Performance Dates:
Thursday July 27, Friday July 28, Saturday July 29, Sunday July 30
ABOUT SHAKESPEARE SUMMER STROLL
Shakespeare Napa Valley and di Rosa Center for Contemporary Art present Shakespeare Summer Stroll, a site-integrated presentation of scenes and monologues from some of Shakespeare's most beloved plays, interwoven with the sculptures and outdoor spaces at di Rosa.
Directed by Olivia Cowell, NVC Theater Arts instructor, Shakespeare Summer Stroll 2023 reunites the same production team from the 2021 Summer Stroll, which was sold out to rave reviews. This program is funded in part, by Napa Valley Presents and Napa County. Tickets to Shakespeare Summer Stroll 2023 are offered at a variety of pricing options to ensure community access to the program. Proceeds from tickets support di Rosa's public programs and community partnerships such as Shakespeare Summer Stroll. 
ABOUT SHAKESPEARE NAPA VALLEY
In 2010, Shakespeare Napa Valley (SNV). SNV, a program of the Napa Valley College District Auxiliary Services Foundation, partnered with the City of Napa to present a production of The Taming of the Shrew in downtown Napa's Veteran's Park. It saw record setting attendance and renewed passion for Shakespeare was ignited in the Napa Valley through the company's inventive storytelling of Shakespeare's classic tale.
Since that inaugural production, SNV has produced at least one full-scale production each year, attracting audiences of over 30,000 to see their exciting, interactive, and wildly imagined productions of plays written or inspired by William Shakespeare.
A champion of original work as well as the classics, Shakespeare Napa Valley began a new plays program in 2015, with Reed Martin and Austin Tichenor writing and directing world premiere workshop performances of Shakespeare's Long Lost First Play (abridged) with SNV. In 2019, they were in residency again to workshop Hamlet's Big Adventure. Both went on to successful runs with the Reduced Shakespeare Company.
Along with new work, SNV has promoted a global presence with productions of The Comedy of Errors and As You Like It being presented at the UK International Youth Arts Festival in London. SNV's Founder and Artistic Director Jennifer King directed the 2017 Czech premiere of Shakespeare's Long Lost First Play (abridged), as well as The Comedy of Errors (2018) and A Midsummer Night's Dream (2019) for the Prague Shakespeare Company.
These experiences, along with associations with Arts Council Napa Valley, Theater Bay Area, Theater Communications Group, Shakespeare Theaters Association, Earth Shakes, and Globetrotting Shakespeare, have raised the profile of Shakespeare Napa Valley as a local, national, and global arts leader. as SNV's fiscal sponsor.