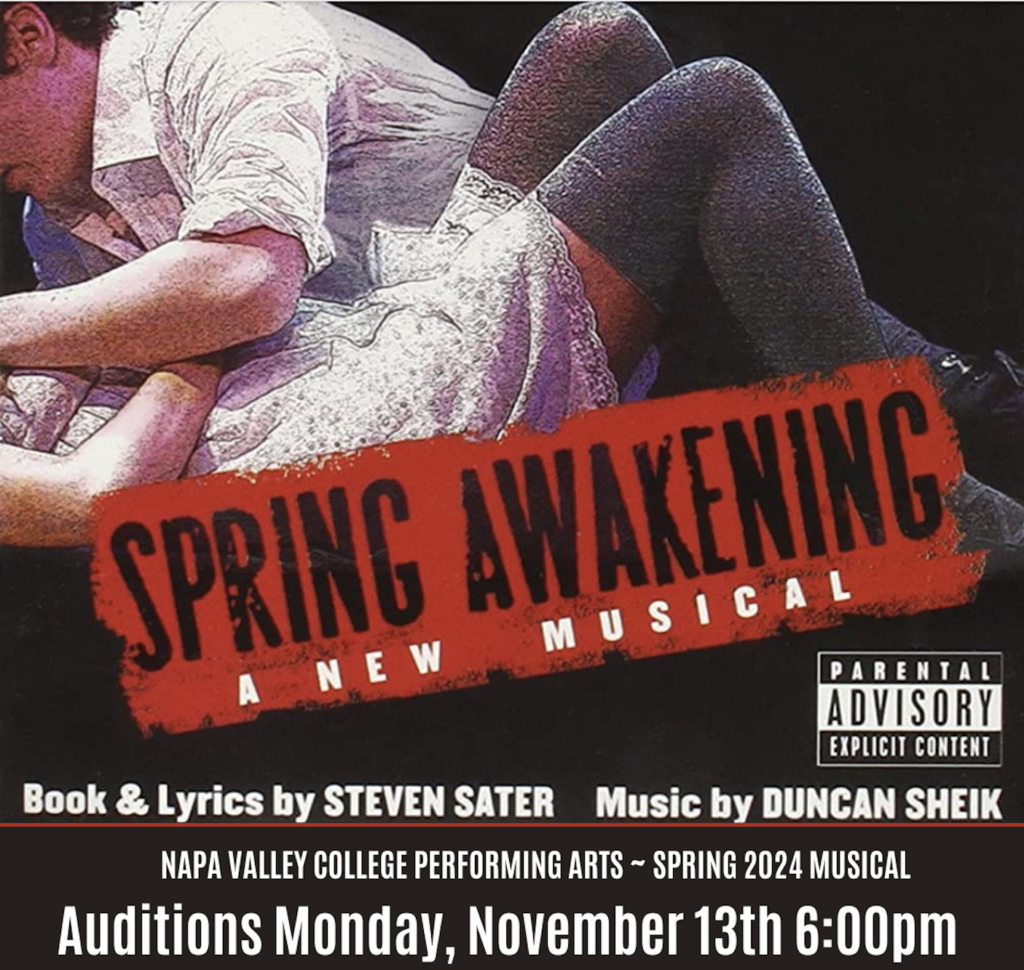 Spring 2024 Auditions for "Spring Awakening"
Audition Details:
Monday, November 13th, 2023 at 6pm-9pm in the NVC Performing Arts Center (bldg. 100), Recital Hall (room 147) 
Auditioners will be seen on a first come first serve basis. There is a limited number of audition spots. Upon arrival, please sign in for the next available time slot. No late auditioners will be seen.
Auditions are open to actors 16+.
An accompanist will be provided. Bring a double-sided, clean, and legible copy of your sheet music in a 3-ring binder. Auditioners may not sing with recordings.
If you have a current headshot and acting resume, please attach it to the provided audition form. If you do not, simply fill out the audition form provided at Sign In or by using this LINK.
If cast, you will be required to enroll in the corresponding Theater and Music courses.
Performances are slated for March 8, 9, 10, 15, 16, 17, 2024.
About the Spring 2024 NVC Performing Arts production of Spring Awakening.
An angsty rock musical adaptation of the seminal play about the trials and tribulations of growing up. The winner of eight Tony Awards, including Best Musical, told by Duncan Sheik and Steven Sater through what Entertainment Weekly called, "the most gorgeous Broadway score this decade," Spring Awakening explores the journey from adolescence to adulthood with a poignancy and passion that is illuminating and unforgettable. The landmark musical is an electrifying fusion of morality, sexuality and rock and roll that is exhilarating audiences across the nation like no other musical in years.
It is Germany, 1891, a world where the grown-ups hold all the cards. The beautiful young Wendla explores the mysteries of her body and wonders aloud where babies come from… until Mama tells her to shut it and put on a proper dress. Elsewhere, the brilliant and fearless young Melchior interrupts a mind-numbing Latin drill to defend his buddy, Moritz – a boy so traumatized by puberty that he can't concentrate on anything… not that the Headmaster cares. He strikes them both and tells them to turn in their lesson. One afternoon, in a private place in the woods, Melchior and Wendla meet by accident and soon find within themselves a desire unlike anything they've ever felt. As they fumble their way into one another's arms, Moritz flounders and soon fails out of school. When even his one adult friend, Melchior's mother, ignores his plea for help, he is left so distraught that he can't hear the promise of life offered by his outcast friend, Ilse. Naturally, the Headmasters waste no time in pinning the "crime" of Moritz's suicide on Melchior to expel him. And soon, Mama learns that her little Wendla is pregnant. Now the young lovers must struggle against all odds to build a world together for their child.
This celebration of rebellion provides the perfect opportunity to feature performers of all types, as well as the creative flexibility with the use of costumes, set pieces and lighting. Featuring a pop rock score, this is an ideal show for talented vocalists with strong acting abilities. Join this group of late nineteenth century German students on their passage as the navigate teenage self-discovery and coming of age anxiety in a powerful celebration of youth and rebellion in the daring, remarkable Spring Awakening. (Music Theater International)
Questions?
If you have specific questions, please reach out to: