A Special Broadcast
May 23, 2021, 1:00 p.m.
Sunday, May 23, the Napa Valley College Chorale performance will air live on KVYN 99.3 FM from 1 to 2 p.m., with the help of the Wine Down Media broadcast truck. Details coming to this page soon.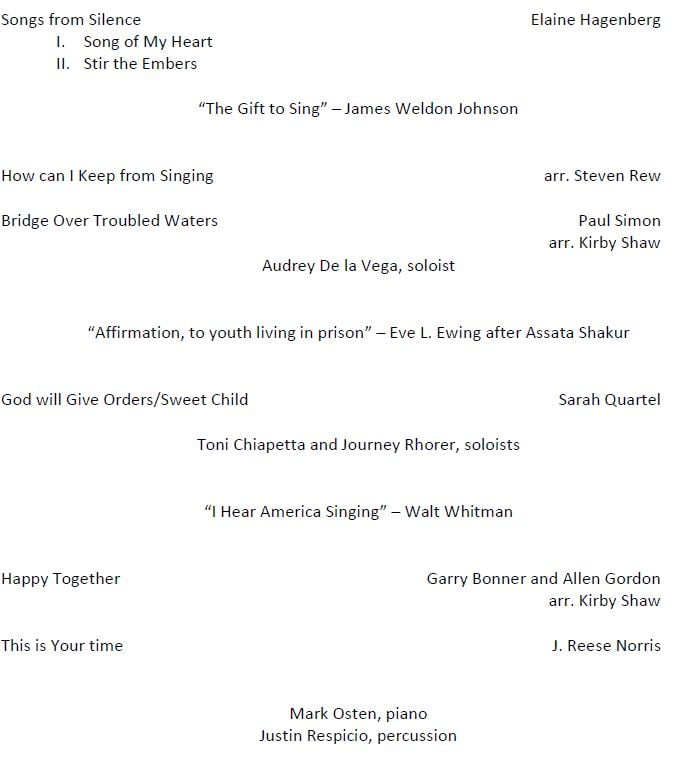 Songs from Silence
1. If the song of my heart falls silent,
sing to me.
2. When our voices stir the embers,
my heart remembers
our song again.
The Gift to Sing (poem by James Weldon Johnson)
Sometimes the mist overhangs my path,
And blackening clouds about me cling;
But, oh, I have a magic way
To turn the gloom to cheerful day—
I softly sing.
And if the way grows darker still,
Shadowed by Sorrow's somber wing,
With glad defiance in my throat,
I pierce the darkness with a note,
And sing, and sing.
I brood not over the broken past,
Nor dread whatever time may bring;
No nights are dark, no days are long,
While in my heart there swells a song,
And I can sing.
How can I Keep from Singing
My life flows on in endless song;
Above earth's lamentation,
I hear the sweet, tho' far-off hymn
That hails a new creation;
Thro' all the tumult and the strife
I hear the music ringing;
It finds an echo in my soul—
How can I keep from singing?
While though the tempest loudly roars,
I hear the truth, it liveth.
And though the darkness 'round me close,
Songs in the night it giveth.
No storm can shake my inmost calm
While to that rock I'm clinging.
Since love is Lord of heaven and earth.
Affirmation to youth living in prison after Assata Shakur
Speak this to yourself until you know it is true. I believe that I woke up today and my lungs were working, miraculously, my voice can sing and murmur and ask, miraculously. My hands may shake, but they can hold me, or another. My blood still carries the gifts of the air from my heart to my brain, miraculously. Put a finger to my wrist or my temple And feel it: I am magic. Life and all its good and bad and ugly things scary things which I would like to forget beautiful things which I would like to remember — the whole messy lovely true story of myself pulses within me. I believe that the sun shines if not here, then somewhere. Somewhere it rains, and things will grow green and wonderful. Somewhere inside me, too, it rains, and things will grow green and wonderful. Sometimes my insides rain from the inside out. And then I know I am alive I am alive I am alive -Eve L. Ewing
God will Give Orders/Sweet Child
God will give orders to his angels about you
and all his angels, all his armies sing "ah!"
Do not think poorly of these little children.
All of them have an angel in heaven
and all their angels can see the face of the Father.
Sweet child, hear my song
I will guard you
You're the future
Love and mercy, show to others.
Faith like a child, can hear the song,
a song that falls on ears of those who
wait like a child for peace to come
and trust that we will learn to show them
Love like a child who knows no wrong
From being loved by those who've taught them
Faith like a child forever strong
The circle goes on.
I Hear America Singing BY WALT WHITMAN
I hear America singing, the varied carols I hear,
Those of mechanics, each one singing his as it should be blithe and strong,
The carpenter singing his as he measures his plank or beam,
The mason singing his as he makes ready for work, or leaves off work,
The boatman singing what belongs to him in his boat, the deckhand singing on the steamboat deck,
The shoemaker singing as he sits on his bench, the hatter singing as he stands,
The wood-cutter's song, the ploughboy's on his way in the morning, or at noon intermission or at sundown,
The delicious singing of the mother, or of the young wife at work, or of the girl sewing or washing,
Each singing what belongs to him or her and to none else,
The day what belongs to the day—at night the party of young fellows, robust, friendly,
Singing with open mouths their strong melodious songs.
This is Your Time
"Hear this, young men and women everywhere, and proclaim it far and wide. The earth is yours and the fullness thereof. Be kind, but be fierce. You are needed now more than ever before. Take up the mantle of change. For this is your time."
— Winston Churchill